SD62 bus registration closure, refunds and passes
Dear Parents/Guardians,
Please read the following email about the SD62 school bus carefully as it regards:
Registration closure
Refunds
Passes
Registration Closure Registration for this 2016/2017 school year closes on Monday, October 17 at 9 p.m.
Due to a very high volume of riders, our buses are at or are nearing their capacities. All registration must be completed online. Please don't wait until the very last minute to register! All registrations will be placed on a wait list. Link to online registration.
Those who registered outside of the registration window last spring are wait listed and may be asked to move to a different bus if the bus they currently ride is full. Riders not registered will not be allowed on the bus.
Refunds
Our goal is to have all refunds completed by October 31.
Our Finance Department has processed more than 1000 refunds, but they still have nearly 1000 more to complete. The system was not designed to handle so many refunds at once, so there are daily limits to what we can put through for refunds. As a result, you may receive more than one refund. Please continue to check your credit card and bank statements for refund notification. Our goal is to have all refunds completed by October 31. You will receive your refund via the same method you paid, so by credit card or e-cheque.
Bus Passes – Middle and Secondary students only
Students must present their passes each time they load a bus. 
Permanent bus passes will be issued to registered riders over the next few weeks. Until then, please continue to use the temporary bus passes assigned. Drivers will be diligent in checking for these.
As always, thank you for your patience and understanding. It has been a learning experience for us all!
For questions or more information, please email bussing@sd62.bc.ca
Sincerely,
Sooke School District
Thursday, September 22, 2016   6:00 pm – 7:00 pm
We hope that everyone had a fun summer! A few reminders as we start our new school year
School starts on Tuesday, September 6 for a half day only.  Students will be dismissed at 11:45am.
There is no need for students to bring their new school supplies until we move into our new classes.  Students are welcome to bring a few basic school supplies for the first days of school to work with.
Returning students are to go to their last year's classroom for the first few days of school until we switch to our new classes.
Any new students are to meet in the gym on Tuesday morning.  We will help these students get to an assigned classroom.
Full days of classes start on Wednesday, September 7 with our regular school day hours, 8:45am-2:53pm
If your child was on the Lunch Program last year, please note that this program does not start untilMon, Sept.  12.  Please be sure to send a lunch with your child for the first week of school.
New Kindergarten students start their staggered entrance on Friday, September 9.  Their first full day of school is not until Wednesday, September 14.  If any of the new Kindergarten families need clarification of their group time for the staggered entrance, please call the school office.
If your student is a new bus student this year – either new to our school or new to taking the bus, please call the school and let the office know.
We wish everyone a great start up!
Mandi Becking
Vice-Principal

Online registration for the school bus is open!  Register by June 24 if your child requires school bus transportation starting in September. Please visit the Transportation page for information including fees and guidelines.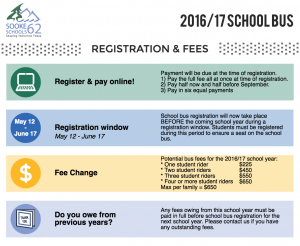 Find all the details about the new changes as well as current bus routes and more on the District's Transportation page. (link http://www.sd62.bc.ca/about/transportation/)
May 4, 7-8 pm
Journey Middle School Gym
Parents will have an opportunity to learn about Journey, meet some of the grade 6 teachers and have a tour of the school.
Students are welcome too!
Wednesday April 27 5:30-7:30  Come and join the FUN!
Bouncy inflatables, Seed planting station, Crafts, Sidewalk Chalk, Bubbles, Face painting, Auction baskets.
Tickets are $6 per person/family pass (5 people or more) $25
Dinner combos $5 (6″ sub and beverage)
Snacks will vary between $1-$3
*all tickets can be purchased the night of the Spring Fling on a first come first serve